At MARBLE Renewal we care about you, the customer. For more than two decades, we've dedicated ourselves to solving your natural stone and hard surface restoration needs, becoming leaders in the industry. Using our vast, acquired knowledge and experience, we've developed products, processes and techniques that deliver outstanding results. We strive to work with you and establish a long-term relationship that will continue well into the future. We carefully evaluate your needs at the onset of a project and tailor a solution that is right for you and your requirements. Working together we keep you fully informed about every stage of the process, whether we're performing a complete restoration or focusing strictly on specifics like cleaning or patching.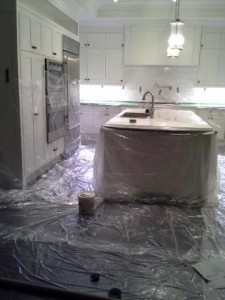 Our technicians are dedicated, knowledgeable and experienced, trained as master craftsmen in the restoration, maintenance and total care of all types of natural stone and hard surfaces.
Technicians undergo a mentoring program with a senior technician to become fully knowledgeable about all types of natural stone and hard surfaces, including marble, granite, limestone, terrazzo, travertine, tile, concrete, polyagglomerate and many others. In addition, each technician must also complete a rigorous training program that combines education with experience in the field, taking up to two full years to complete.
They quickly respond, diagnose and troubleshoot problems in the residential, commercial or industrial market space.
Solving problems with natural stone or other hard surfaces—whether it's patching, cleaning or performing a complete restoration—translates into tangible cost savings, something that every company in every industry wants to achieve.
High quality restoration and maintenance services will restore your surfaces to a like-new, factory-finish while saving up to 80% of possible replacement costs—if the solution is a high quality one that is implemented properly to ensure it lasts long into the future.
We use proprietary products, services and techniques that are tried, tested and proven. Additionally, we are dedicated to improving safety through our active involvement in the National Floor Safety Institute (NFSI).